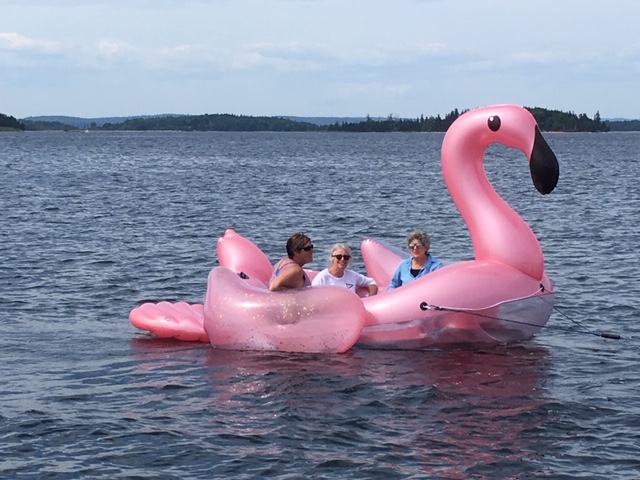 Here is your route:
Start at the Pink Flamingo in the middle of the mouth of Martins River. It's hard to miss
Head through Indian Point and port around Andrews Island
Head to Gifford Island, keeping it on your port
Head to Kaulbach Island keeping Bella Island on your starboard
Round Kaulbach keeping it on your port back to the Flamingo….Enjoy
Answer the below questions and return via email to ipyachtclub@gmail.comon or before 5 pm.
QUESTIONS:
The Slow No Wake buoy in Indian Point is lighted. True____False____
What time zone is NS in?
How many window panels are on the main doors of Lutwick's boat building shop?
Name the colour of the door on the gray house opposite the mussel farm in Indian Point.
How many lighthouses are there in NS?
How many big spruce trees are in the middle of Strum Island?
What is the name on the transom of the boat in the 1st building on the Mahone Bay side of Heisler's boatyard, Gifford Island?
Describe the condition of the outhouse that you see on Gifford Island.
What man made structure is placed between Ernst Island and Gifford Island to assist w/wildlife protection/breeding?
Name the colours of the buildings on Spectacle Island
What do you know anout the origin of hockey sticks in Nova Scotia? * Bonus? … What material were they made with?
How many chimneys are on the big house on Kaulbach Island?
There is a very colourful roof at the entrance of Martins River. Name the colour.
Who is the mayor of Martin's River?
Name the items on Birdie, the Flamingo's back.
Winners will be announced by email!