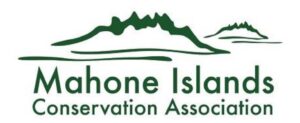 Information for the July 1st Mahone Islands Day Race.
The Course will go around several of the MICA Islands. Those that are racing will start at the Mailman and Kelley Wharf in Indian Point. There are two courses, the Class B course will include the islands of Andrews, Goat,  and Bella. The Cass A and A+ will include the Islands of Andrews, Sheep, Covey, Backmans, Masons and Bella.
Registered Boats will receive their Pursuit Start times by email. First Start at 1300HRS, July 1st
Click here for the Sailing Instructions
Please be respectful of other boaters, especially in constricted passages such as Indian Point.
Those that are not racing are welcome to follow the course charts.
Course B
Start between the Yellow Mark and the Mailman and Kelley Wharf
Leave Andrews Island to Port
Leave Goat Island to Port
Leave Rous Island to Port
Leave Spectacle Island to Starboard
Leave Bella Island to Starboard
Leave Kauleback to Port
Leave Zwicker Island to Port
Finish between the Yellow Mark and the Mailman and Kelley Wharf
Course A and A+
Start between the Yellow Mark and the Mailman and Kelley Wharf
Leave Andrews Island to Starboard
Leave Goat Island to Port
Leave Coveys Island to Port
Leave Backmans Island to Starboard
Leave Masons Island to Starboard
Leave Bella Island to Port
Leave Kauleback to Port
Leave Zwicker Island to Port
Finish between the Yellow Mark and the Mailman and Kelley Wharf
Click for the chart Course A and A+
The Mahone Islands Conservation Association (MICA) and its partners (the Province of Nova Scotia, the Municipality of the District of Lunenburg and the Municipality of the District of Chester) have invested very significant financial resources to bring 18 Mahone Bay islands or island properties into public ownership for conservation and for traditional public use. Find out more at https://www.mahoneislands.ns.ca/